Ancestor Links - Images
Hayes & Dand Cousins and related families - Herbert Family - Earls of Carnarvon (Highclere Castle)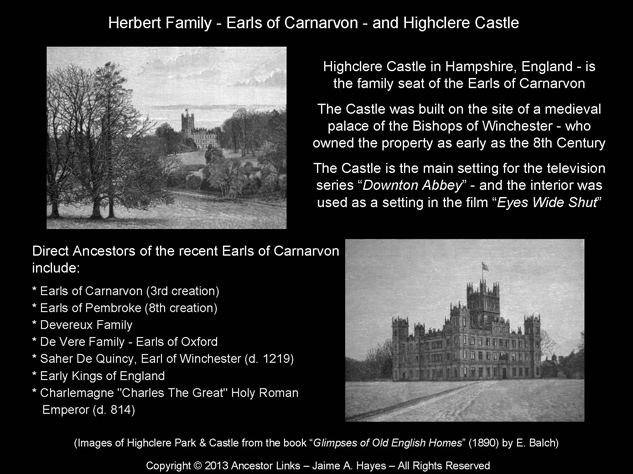 Highclere Castle in Hampshire, England - is the family seat of the Earls of Carnarvon.

The Castle was built on the site of a medieval palace of the Bishops of Winchester - who owned the property as early as the 8th Century.

The Castle is the main setting for the television series "Downton Abbey" - and the interior was used as a setting in the film "Eyes Wide Shut".
The recent Earls of Carnarvon were Direct Descendants of:
Earls of Carnarvon (3rd creation)
Earls of Pembroke (8th creation)
Devereux Family
De Vere Family - Earls of Oxford
Saher De Quincy, Earl of Winchester (d. 1219)
Early Kings of England
Charlemagne "Charles The Great" Holy Roman Emperor (d. 814)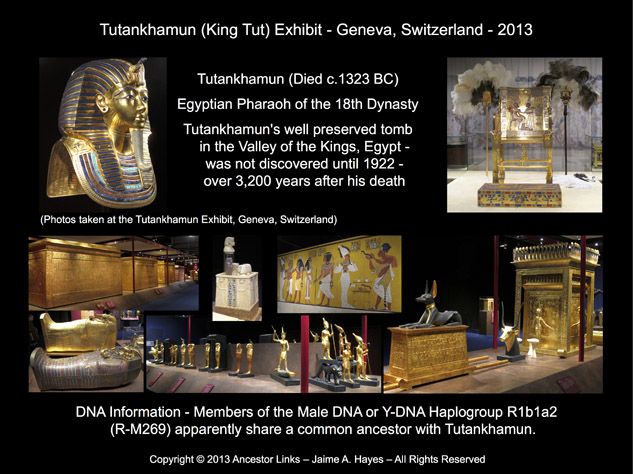 George Herbert, 5th Earl of Carnarvon (1866-1923) - was the financial backer of the search for - and excavation of Tutankhamun's tomb. Tutankhamun (Died c.1323 BC) was an Egyptian Pharaoh of the 18th Dynasty. His well preserved tomb in the Valley of the Kings, Egypt - was not discovered until 1922 - over 3,200 years after his death.
DNA information - members of the Male DNA or Y-DNA Haplogroup R1b1a2 (R-M269) apparently share a common ancestor with Tutankhamun.
Other Links and Images grouped by theme
An example of some of the clues and the "Gateway Ancestor" that were found on "The Family Tree" - and some of the related research discoveries.
DNA test results can provide valuable Genealogical information - as a complement to traditional Genealogical Research.