Ancestor Links - Photos & Images
Ancestor Summary - Peter HAYES * and Sarah BERRY **
[West Shefford (Bromont), Quebec - 1796]
* Son of Moses HAYES and Abigail HORNE [Gateway Ancestor]

** Daughter of James BERRY and Bethany ALLARD
[West Shefford (Bromont), Quebec - 1795]
Early New England Ancestors (1600's):



John HAYES [Dover, N.H. ca. 1680] & Mary Horne
William BERRY [Strawbery Banke (Portsmouth) N.H. ca. 1631] & Jane
Henry BROWN [Salisbury, Mass. ca. 1641] & Abigail
John CLOUGH [Elizabeth ship - 1635; Salisbury, Mass. ca. 1639] & Jane
Capt. John EVANS [Dover, N.H. ca. 1659-60]
Samuel FELLOWS [Salisbury, Mass. ca.1639] & Ann
John HAM [Dover, N.H. ca. 1668] & Mary Heard
John HEARD [Dover, N.H. ca. 1640] & Elizabeth Hull
William HORNE [Dover, N.H. ca. 1659] & Elizabeth Clough
Rev. Joseph HULL [Marygould Ship - 1635; Weymouth, Mass.] & Joanne
Nathaniel LOCKE [Hampton, N.H. ca. 1650] & Sabina Hemins
William MARSTON [Hampton, N.H. ca. 1638] & Sabina Hemins
Thomas PHILBRICK [Watertown, Mass. ca. 1636] & Elizabeth Knapp
William PITMAN [Dover, N.H. ca. 1657] & Barbara Evans
James RAWLINS [Ipswich, Mass. ca. 1632] & Hannah
Thomas ROBERTS [Dover, N.H. ca. 1623] & Rebecca (Hilton?)
Elder Edward STARBUCK [Dover, N.H. ca. 1635 & Nantucket Island] & Catherine (Reynolds?)
William VARNEY [Ipswich, Mass. ca. 1649] & Bridget (Deverell?)
Richard OTIS [Dover, N.H. ca. 1655] & Rose STOUGHTON [Royal Descent] ...



Magna Carta (1215) Links:




Sir William MARSHAL, 1st Earl of Pembroke
KING JOHN of England
Roger le BIGOD, Steward of England, 2nd Earl of Norfolk
Hugh le BIGOD, 3rd Earl of Norfolk
Richard de CLARE, Earl of Hertford and Clare
Gilbert de CLARE, Earl of Gloucester and Hertford
William de HUNTINGFIELD
John de LACY, Earl of Lincoln
William de LANVALLAY
William MALET
William de MOWBRAY
Saher de QUINCY, Earl of Winchester ...



Royal Ancestors:




KING HENRY III of England (died 1272) and early Kings and Sovereigns of England, Scotland, Ireland, France, Italy, Burgundy, Spain, Austria, Norway, Sweden, Hungary, Poland, Kievan Rus (Ukraine & Western Russia), Byzantine Empire (Eastern Roman Empire), Latin Kingdom of Jerusalem, Holy Roman Emperors ... back to Charlemagne "Charles the Great" Holy Roman Emperor (died 814)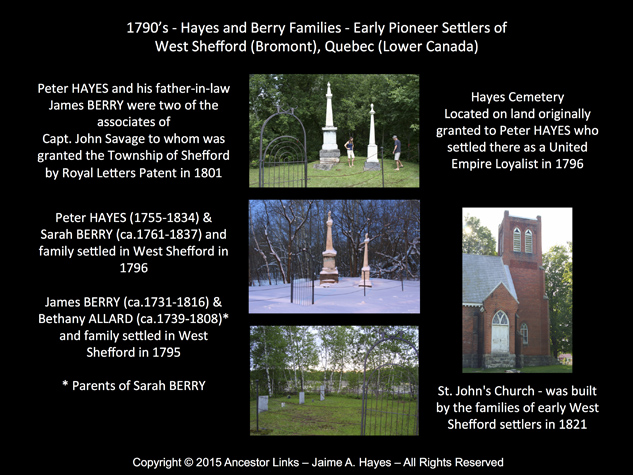 1790's - Hayes and Berry Families - Early Pioneer Settlers of West Shefford (Bromont), Quebec (Lower Canada)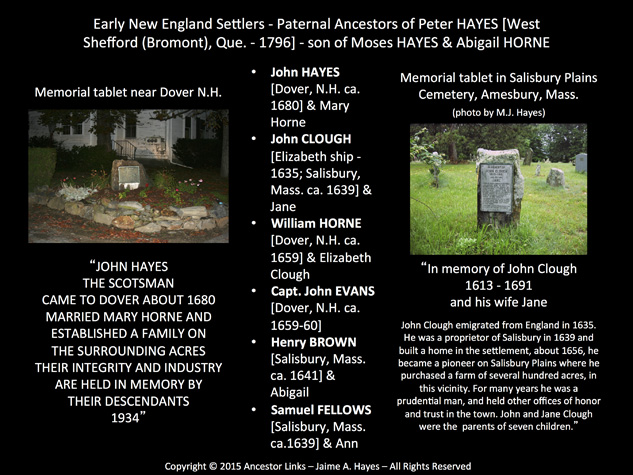 Early New England Settlers - Paternal Ancestors of Peter HAYES [West Shefford (Bromont), Que. -­ 1796] -­
son of Moses HAYES & Abigail HORNE [Gateway Ancestor]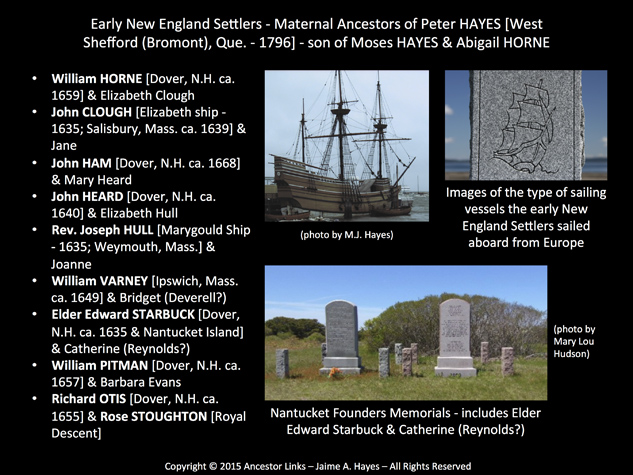 Early New England Settlers - Maternal Ancestors of Peter HAYES [West Shefford (Bromont), Que. -­ 1796] -­
son of Moses HAYES & Abigail HORNE [Gateway Ancestor]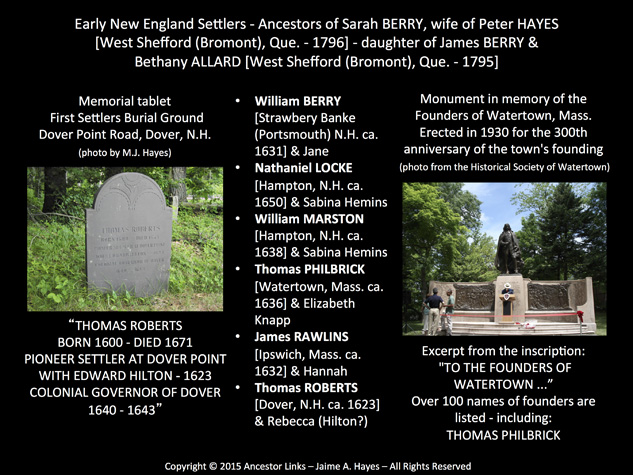 Early New England Settlers - Ancestors of Sarah BERRY, wife of Peter HAYES [West Shefford (Bromont), Que. -­ 1796] -­
daughter of James BERRY & Bethany ALLARD [West Shefford (Bromont), Que. - 1795]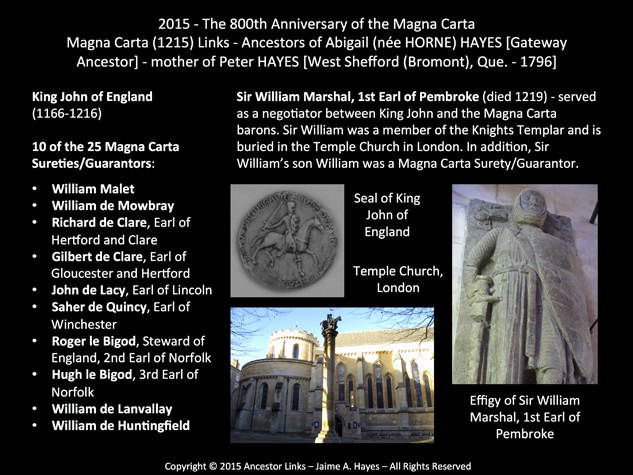 2015 -­ The 800th Anniversary of the Magna Carta
Magna Carta (1215) Links -­ Ancestors of Abigail (nee HORNE) HAYES [Gateway Ancestor] -­
mother of Peter HAYES [West Shefford (Bromont), Quebec -­ 1796]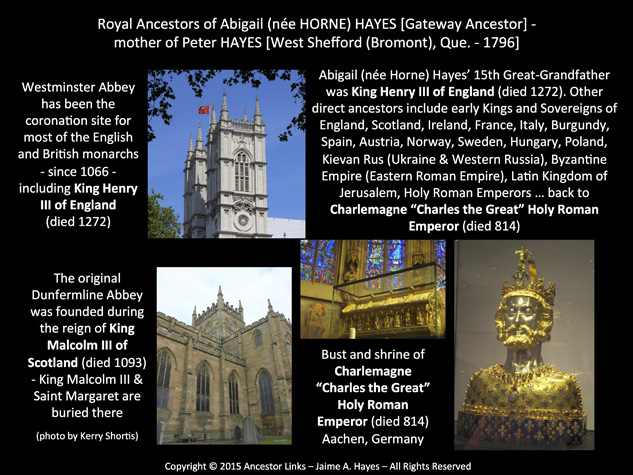 Royal Ancestors of Abigail (nee HORNE) HAYES [Gateway Ancestor] -­
mother of Peter HAYES [West Shefford (Bromont), Quebec -­ 1796]
For a list of the Main Sources (Bibliography)
-
click here
Other Links and Images grouped by theme
Images of the type of sailing vessels used to cross the Atlantic Ocean in the 1600's.
An example of an early New England family home that was also used as a Garrison House for protection against attacks from Native American Indian tribes.

Samuel Hayes & his wife Leah Damm lived in this Garrison House from 1740 to 1770. Samuel was a son of John Hayes the emigrant [Dover, N.H. c.1680]. The house was built by Leah's father - William Damm.
An image of an early settler's home with a description of the challenges that they faced.
The early pioneer settlers built the first homesteads, schools, churches, businesses, towns, roads, bridges ...
As soon as roads were built and well enough developed - horse drawn stagecoaches were used to transport passengers, mail and goods between towns and across regions.
Leading up to the Vancouver 2010 Winter Olympic Games – the Olympic Torch Relay started on October 30, 2009 in Victoria, British Columbia – as day one of the 106 day journey through over 1,000 communities across Canada (including historic West Shefford (Bromont), Magog and Saint-Lin-Laurentides, Quebec).
800th Anniversary of the Magna Carta (1215) - a symbol of justice, fairness, and human rights. Basic principles from the Magna Carta - were incorporated in the American Bill of Rights (1791) and the Universal Declaration of Human Rights (1948) ...
Notable and Famous Descendants include: Duchess of Cambridge; Princess of Wales; Duke of Edinburgh; The Queen Mother; British Prime Minister; Dukes in Italy; Scientist/Naturalist; Actor and Actresses; and President of the United States ...
Notable and Famous Ancestors & Cousin Links by Country include:
Switzerland - Lords of Grandson (Grandson Castle); de La Sarraz family (La Sarraz Castle); Counts of Gruyeres (Gruyeres Castle); Lay Abbots of St. Maurice (Abbey); Benefactor of Romainmotier (Abbey); Bishop of Lausanne (Lausanne Cathedral) ...
DNA test results can provide valuable Genealogical information - as a complement to traditional Genealogical Research.
To return to top of web page
click here